Blue Cacao Superfood Smoothie
Want to enjoy dessert without any of the guilt? This chocolate blueberry smoothie tastes like a sweet treat, but is really just a superfood blend in disguise. Antioxidant-rich blueberries team up with our star-ingredient, energy enhancing maca, to lift your mood, strengthen bones, and fight the bad guys. We've also added calcium-rich kale, heart-healthy avocado, and magnesium rich cacao to really pack a nutritional punch!
BENEFITS
IMMUNITY BOOSTING

ANTI INFLAMMATORY

DIGESTIVE SUPPORT
THE GOODS
Blueberries
Banana
Kale
Avocado
Medjool Dates
Himalayan Salt
Maca Powder
Cacao
Vanilla Extract (non-alcoholic)
SUPERFOOD HIGHLIGHTS
Blueberries
This popular berry has great health benefits – not only are the super low in calories they are packed with vitamin C and fibre. The concentrated amount of antioxidants in blueberries benefits brain function and plays a role in delaying mental decline.
Himalayan Salt
Himalayan salt is made from rock crystals of salt that have been mined from areas close to the Himalayas, often in Pakistan. It gets its rosy hue from trace minerals in the salt, like magnesium, potassium, and calcium.
Maca Powder
Maca is a root from Peru that is nutrient packed! Maca is a complete protein and also contains an abundance of calcium, iron, magnesium, sodium, sulfur, potassium and phosphorous. This superfood is an adaptogen meaning it normalizes the body and keeps things in control. Adaptogens allow the body to better respond to internal and external environmental factors such as anxiety and injuries. Maca is well known for its ability to regulate hormones it encourages the body to produce or decrease its own hormones by nourishing the master glands of the body (hypothalamus and pituitary).
Cacao
This unprocessed chocolate superfood is loaded with amazing nutrition and contains an impressive amount of antioxidants. Reason being that raw cacao is made by cold-pressing unroasted cocoa beans so the nutritional benefits aren't lost during processing. Cacao is a great source of anandamide, which is a neurotransmitter that stimulates a sense of happiness and mental well-being – AKA mood booster!
NUTRITION FACTS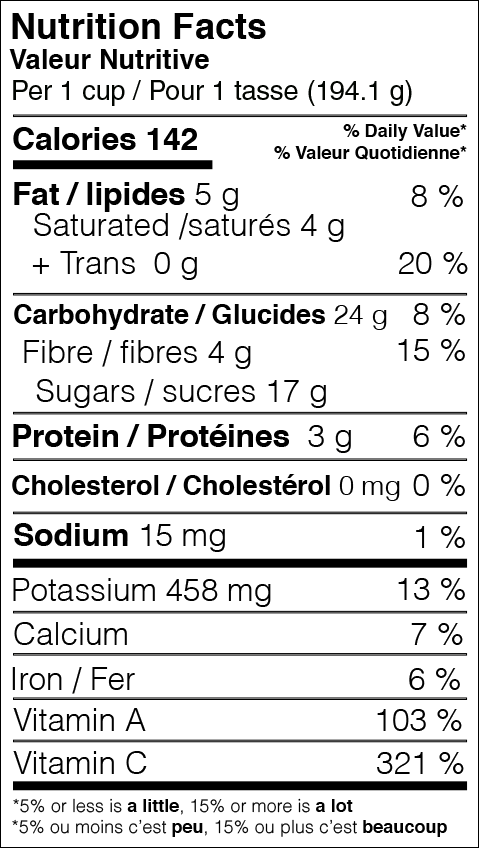 HOW TO BLEND
Step 1
Fill

your smoothie cup all the way to the top with your favourite liquid
Step 2
Toss all the good stuff into your blender and

blend

until smooth
Step 3
Pour your delicious smoothie back into your ready-to-go cup, pop the lid back on and

enjoy

!