Morning Mocha Superfood Smoothie
Are you a frap lover? Why not supercharge your frap with healthy fats? Healthy fat from almonds, cacao, and MCT oil give you a sustainable energy boost. They make this cold brew coffee based smoothie the perfect morning pick-me-up. This smoothie designed for coffee lovers also contains cauliflower for creaminess (we promise you can't taste it) and banana for a sweet touch.
BENEFITS
CLEANSING DETOX

STRESS-RELIEF

IMMUNITY BOOSTING

ANTI INFLAMMATORY

BEAUTIFYING

DIGESTIVE SUPPORT
THE GOODS
Cold Brew Coffee
Cauliflower
Banana
Cacao
MCT Oil
Ceylon Cinnamon
Himalayan Salt
SUPERFOOD HIGHLIGHTS
Cacao
This unprocessed chocolate superfood is loaded with amazing nutrition and contains an impressive amount of antioxidants. Reason being that raw cacao is made by cold-pressing unroasted cocoa beans so the nutritional benefits aren't lost during processing. Cacao is a great source of anandamide, which is a neurotransmitter that stimulates a sense of happiness and mental well-being – AKA mood booster!
MCT Oil
Medium chain triglycerides (MCT) oil contains medium-length chains of fats called triglycerides. Because of their shorter length, MCTs are easily digested and easily absorbed and transported throughout the body. It can be used as an instant source of energy or can be converted into ketones to fuel your brain.
Ceylon Cinnamon
This delicious spice helps your body fight infections and repair tissue damage. One unique quality of cinnamon is that it decreases the amount of sugar that enters your bloodstream after a meal, bye-bye blood sugar spikes!
Himalayan Salt
Himalayan salt is made from rock crystals of salt that have been mined from areas close to the Himalayas, often in Pakistan. It gets its rosy hue from trace minerals in the salt, like magnesium, potassium, and calcium.
NUTRITION FACTS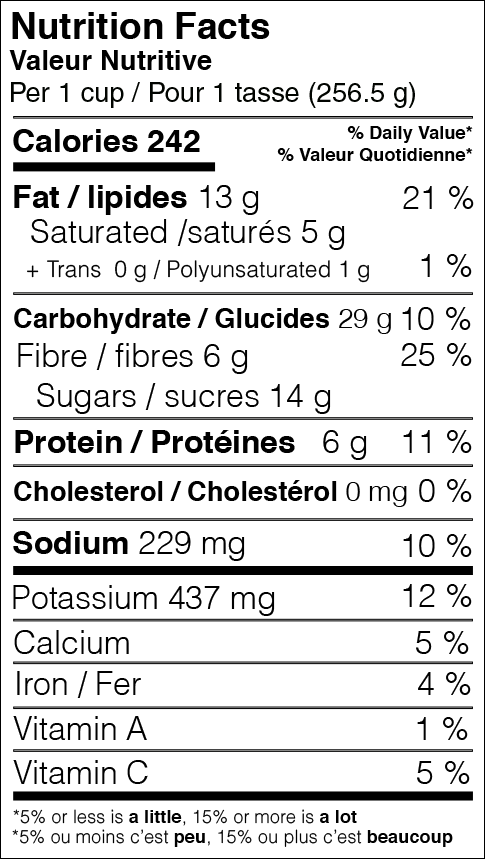 HOW TO BLEND
Step 1
Fill

your smoothie cup all the way to the top with your favourite liquid
Step 2
Toss all the good stuff into your blender and

blend

until smooth
Step 3
Pour your delicious smoothie back into your ready-to-go cup, pop the lid back on and

enjoy

!