Baked Eggs in Tomato Cups
Servings: 2
Ingredients
2 large tomatoes (variety of your choice)
2 large eggs
1/2 cup white cheddar, shredded**You will probably have extra cheese
1/4 cup Parmesan cheese, finely grated
Sea salt and pepper, to taste
1 tablespoon fresh basil, shredded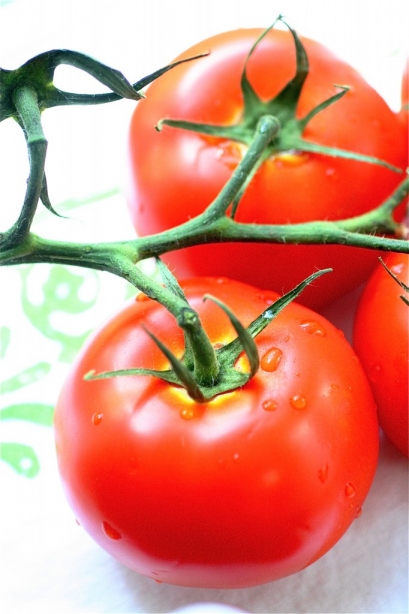 Instructions
1. Preheat the oven to 425 degrees.
2. Slice off the tops of each tomato, and using a sharp knife, gently cut around the inside perimeter of each tomato and scoop out the seeds.
3. Place the tomatoes in an oven-proof baking dish, with the tops. ***I sort of wedged my tomatoes up against the sides so that they would stay upright and the eggs would stay centered.
4. Depending on the size of your tomatoes, place about 1-2 tablespoons of the white cheddar in the bottom of each, making a little well with your fingers so that the eggs will lay flat.
5. Break an egg
into each tomato, trying as best as you can to keep all the whites inside the tomato.
6, Bake
the eggs for 10 minutes. **They will just begin to set during this time.
7, After ten minutes, remove the eggs from the oven and sprinkle with the Parmesan cheese.
8. Bake for another 7-10 minutes, until the eggs are set to your desired consistency.
9. Remove the eggs from the oven and let sit for about 2 minutes.
10. Sprinkle with salt and pepper and garnish with the fresh basil.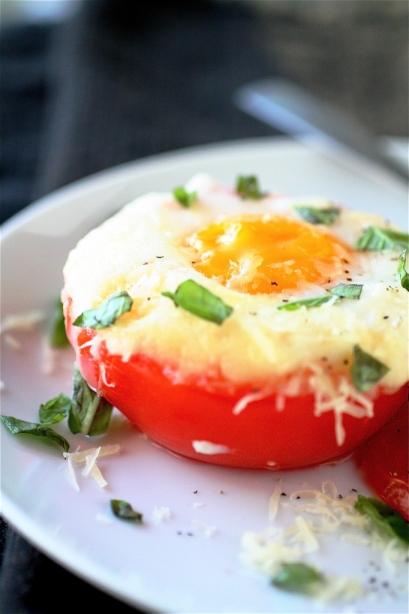 Source: Adapted from Epicurious.