Norwegian Rice Pudding
Especially served as the Traditional Norwegian Christmas Dessert, using leftover rice porridge and fluffy whipped cream, sugar, and vanilla.
Ingredients
Topping sauce:
Juice concentrate and water to make 3 cups somewhat strong tasting juice
5 tsp corn starch
Rice Pudding:
4 c rice porridge leftovers
½ c whole milk
2 half-pint cartons (or 2 cups altogether) heavy whipping cream
6 Tbsp sugar (white)
1 Tbsp vanilla sugar (or extract, but vanilla sugar strongly preferred)
Instructions
Prepare the topping sauce by whisking together juice and cornstarch until smooth and no lumps remain.
Bring to a boil while stirring occasionally.
Cool while covered, until well chilled.
Beat again with a wire whisk until smooth.
Rice Pudding:
Mix together cold rice porridge leftovers and milk. Set aside.
Beat heavy whipping cream, sugar, and vanilla sugar until stiff peaks form.
Gently fold whipped cream into porridge until blended together, careful not to beat air out of the whipped cream.
Serve with the topping sauce on the side.
Riskrem (Rice Pudding) is a traditional Norwegian Christmas dessert, made from leftover rice porridge (recipe in this link) and whipped cream, with some sugar and vanilla added. Topped with a red berry- or fruit sauce, it is fluffy and creamy, with a little tang added from the sauce. This dessert should not be confused with the rice pudding often found in grocery stores in the U.S., which tends to be overly sweet, the rice not as tender, and with cinnamon added. Cinnamon has no place in Norwegian riskrem. My recipe delivers fluffy, creamy, and pleasantly sweet, vanilla flavored riskrem, the rice kernels cooked until completely tender.
The first part in making this delicious dessert is to mix together a little bit of whole milk and 4 cups of leftover rice porridge, which should be stored in the refrigerator until ready to use.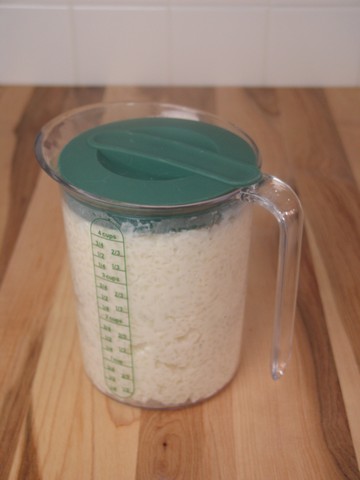 Dilute with 1/2 cup whole milk, as rice porridge thickens as it sits. A rubber spatula makes it easier to mix together.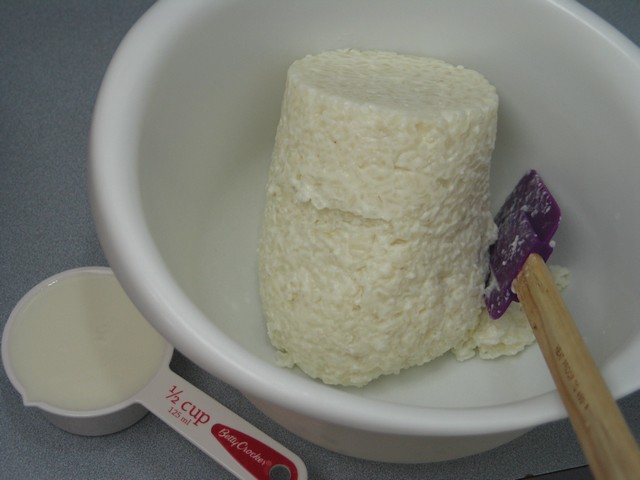 Next, prepare the whipped cream. Well chilled heavy whipping cream is used, 2 cups in all, with 6 Tbsp sugar and 1 Tbsp vanilla-sugar added.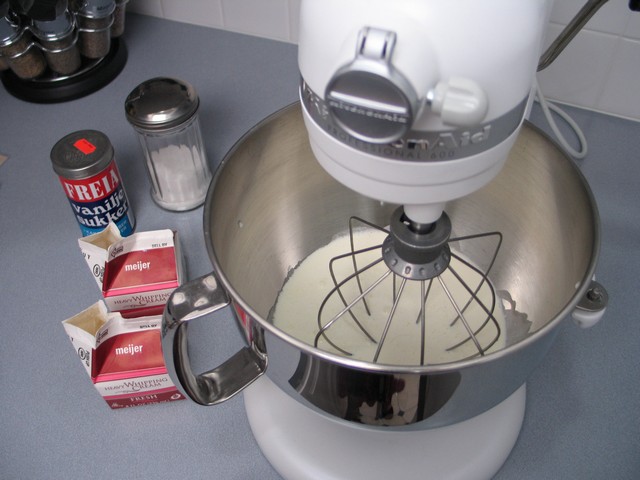 You may be able to find vanilla sugar at certain super markets or specialty stores, perhaps in international sections. Otherwise, Amazon carries it as well: Just click this link to find it. If you are unable to find any, you may also use vanilla extract; however, your rice pudding might be slightly discolored. Using vanilla sugar will ensure a bright, white rice pudding. This picture was taken at an international store where I found some: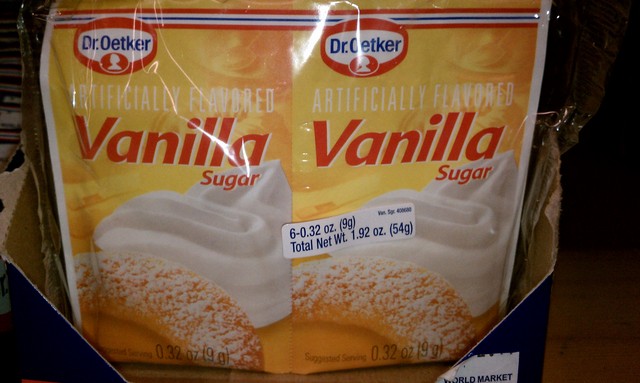 Using the wire attachment, if your mixer comes with one, whip the cream until very fluffy, and stiff peaks form. Be careful not to beat it to butter! There's a fine line here.
Add the whipped cream, and gently fold it in until blended together. Don't over mix it; you'll want the pudding to stay nice and fluffy. As you can see, the whipped cream is rather stiff, which makes for a thicker, but fluffier pudding in the end.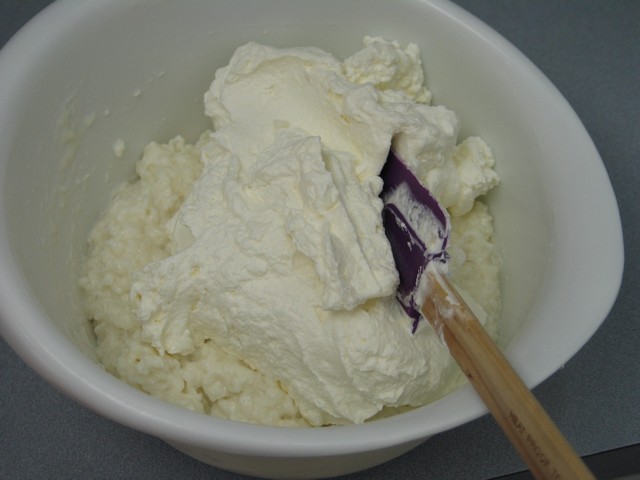 The pudding is now mixed together, and very creamy, soft, and fluffy. Immediately place in the refrigerator until ready to serve, and store leftovers in the refrigerator. Our large bowl of leftovers typically last 5-6 days, unless we finish it before that (which we do, now that our kids are older.) The sauce will last at least that long.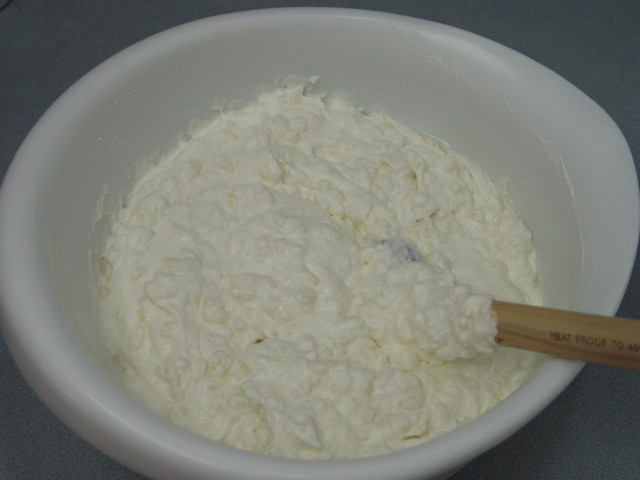 Red Topping Sauce
The Norwegian tradition is to top the rice pudding with a red fruit- or berry sauce, served on the side. I typically make the topping sauce before the pudding itself, as the sauce needs to chill for several hours, while the pudding is very quick to put together.
The sauce consists of red juice and corn starch only, so it is quite simple to make. Since the sauce will be added to the top of the rice pudding, the color is important. For the prettiest result, I try to look for a red juice that leans toward pinks, rather than the ones that have a slight brown tint to them. When you see the sauce against the white pudding, those differences do come through, even if the juices look similar on the shelf at the store. I went hunting the other day, to find something I can recommend:
Of concentrates (Old Orchard brand), which are nice to use as you can decide how strong to make the juice, these are the ones I tried: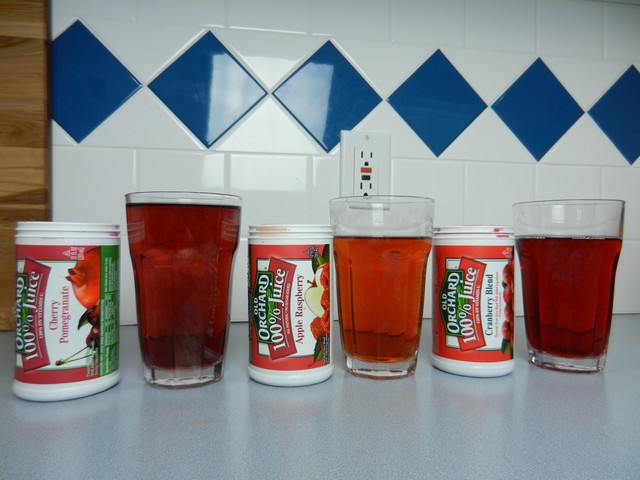 The middle one, Apple Raspberry (which I thought would be the winner), surprised me by having a bit of that brown tint that I don't like. Cherry Pomegranate to the left, and Cranberry Blend to the right, however, looked much better. I ended up preferring Cranberry Blend, as I can't quite accept cherry flavored sauce on my rice pudding. It just doesn't do for the Norwegian in me (and since I'm all Norwegian, that's a pretty big part!) The only thing about the cranberry blend was that it was a bit tart, so I added a little sugar to it when making the sauce.
Of already mixed juices, these are the ones I chose to bring home to compare to the rest: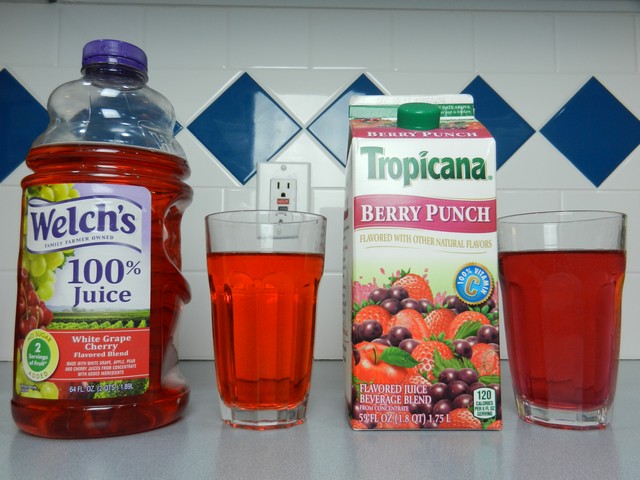 The true Berry Punch color does not come through very well on this picture, unfortunately. It looks pretty close to the color around the name "Berry Punch", a pretty plum pink. This color works well in my opinion, to the contrary of Welch's juice, which looks more orange.
Once you have selected the juice you prefer, here's how to make the sauce:
Mix together juice concentrate and water to a somewhat strong tasting juice for best flavor, or use regular pre-mixed juice. Measure up 3 cups, pour into a pot, and add 5 tsp corn starch (or potato starch). Mix well with a wire whisk until no lumps remain. Also add a little sugar if the juice is tart, like cranberry can be. Just taste it and see what you think.
The whisk style below, commonly used in Norway, is my absolute favorite! I just love how easy this whisk makes mixing together (oh my, try to say that one fast!!) batters, sauces and such; it just works so much better for me than the more commonly used whisks. Here's a direct link to where you can find it on Amazon; just click on the picture and it will bring you right to it.
Bring to a boil while stirring occasionally. The juice will look cloudy when the corn starch is added, but will become transparent again once it comes to a boil. The sauce will seem very thin at this point.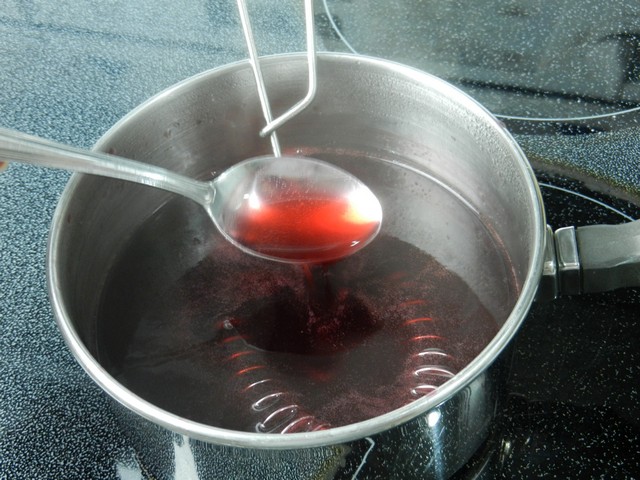 Chill while covered, to prevent a membrane from forming. It is best to chill in the refrigerator, as the sauce won't thicken completely until cold. When the sauce is completely chilled, whisk well to achieve a uniform texture, otherwise it will seem gel-like and lumpy.
If you're in a rush to get the sauce made and there is no time to leave it in the refrigerator, you can cool it down by placing the pot in cold water. However, since the sauce won't thicken properly until much colder, more corn starch should be added before bringing it to a boil. You could try 8-10 tsp (about 3 Tbsp) instead of 5, and if it ends up too thick, just thin it with more juice. The sauce could be served while still lukewarm even, if enough corn starch has been added. It will then be necessary to thin the leftover sauce later, as it continues to thicken.
Game time!
A fun Norwegian tradition when eating this delicious rice pudding, is to play a little almond game: One single almond is first blanched to remove the brown "skin". The now creamy-white almond is then secretly mixed into the pudding serving bowl; it stays hidden as it blends in well. When serving and eating the pudding, the person who ends up finding it in a mouthful, wins a prize. Traditionally, the prize is a chocolate covered marzipan pig.
This wonderful dessert is one that Norwegians only serve for Christmas, and one that my family always look greatly forward to. For us, Christmas wouldn't be the same without it!


Read More http://thecountrybasket.com/norwegian-riskrem-rice-pudding-christmas-dessert-recipe/ - See more at: http://thecountrybasket.com/norwegian-riskrem-rice-pudding-christmas-dessert-recipe/#sthash.rEZ2y5CW.dpuf
Read More
http://thecountrybasket.com/norwegian-riskrem-rice-pudding-christmas-dessert-recipe/
- See more at: http://thecountrybasket.com/norwegian-riskrem-rice-pudding-christmas-dessert-recipe/#sthash.rEZ2y5CW.dpuf