Goat Cheese, Mozzarella, Basil, and Tomato Mac and Cheese
The original recipe calls for skim milk. I used whole milk here, but feel free to use whatever milk you have on hand.
In addition, use whatever mozzarella you can get your hands on. I used the little orbs, because they are fun to discover when melted throughout the pasta.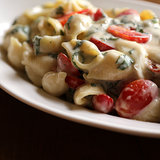 Ingredients
1 tablespoon plus 1/2 teaspoon kosher salt
8 ounces conchiglie (shell) pasta
1 tablespoon salted butter
1 tablespoon olive oil, or more if needed
1/4 cup all-purpose flour
2 1/2 cups milk
1 log (4 ounces) fresh goat cheese, coarsely crumbled
6 ounces ciliegine fresh mozzarella
1 ounce parmesan cheese, finely grated
3/4 cup fresh basil, cut in a chiffonade
2 teaspoons lemon zest, finely chopped
1 1/2 cups cherry tomatoes, halved
Freshly ground pepper
Directions
Fill a 4- to 5-quart pot about three-quarters full with water and add 1 tablespoon of the salt. Bring to a boil and add the pasta. Cook according to package directions, stirring once or twice, until al dente. Then drain.
Using the same pot you used to make the pasta, heat the butter and oil over medium heat. Slowly whisk in the flour and stir constantly until a paste forms, 30 to 45 seconds. Continue stirring for 1 to 2 minutes more, until the mixture starts to darken slightly and smells a bit nutty. Turn heat to medium-low. Slowly whisk in the milk and the remaining 1/2 teaspoon salt and cook until the mixture is hot and just beginning to bubble around the edges, 5 to 7 minutes. It should be thick enough to coat the back of a wooden spoon.
Add the cheeses and lemon zest and stir until the sauce is smooth but not runny. It should be similar in texture to cake batter. If it's soupy, continue cooking until it thickens. Add pasta, tomatoes, and basil and stir just until mixed in. Ladle into bowls and top with black pepper. Serve right away.