Coconut Cream - Keto Smoothie
Coconut Cream is a dream! Our new KETO smoothie is packed with antioxidants, good fats, and fibre! Despite it being low on sugar and carbs, this smoothie is beyond delicious. Forget all you thought a Keto smoothie would taste like we beat all odds with this tasty and nutritious superfood smoothie.
BENEFITS
FAT BURNING

HEART HEALTHY

BEAUTIFYING
THE GOODS
Strawberries
Cauliflower
Raspberries
Coconut Oil
Vanilla Extract (non-alcoholic)
Ceylon Cinnamon
Hemp Seeds
Psyllium Husk
Monk Fruit
SUPERFOOD HIGHLIGHTS
Coconut Oil
Coconuts contain significant amounts of fat, but unlike other nuts, they provide fat that is mostly in the form of medium chain saturated fatty acids (MCFAs) in particular, one called lauric acid. Lauric acid in the body is a powerful antiviral, antifungal and antibacterial. Adding a moderate amount of coconut-derived foods in your diet may help protect the body from infections and viruses.
Ceylon Cinnamon
This delicious spice helps your body fight infections and repair tissue damage. One unique quality of cinnamon is that it decreases the amount of sugar that enters your bloodstream after a meal, bye-bye blood sugar spikes!
Hemp Seeds
Hemp hearts are rich in protein and have all 9 essential amino acids. They also contain omega-3, omega-6, stearidonic acid (SDA), and the rare omega-6 Gamma Linolenic Acid (GLA). What's so great about GLA? Well, GLA has been shown to help with cholesterol, inflammation, skin and hair health, balancing hormones, and general heart health.
NUTRITION FACTS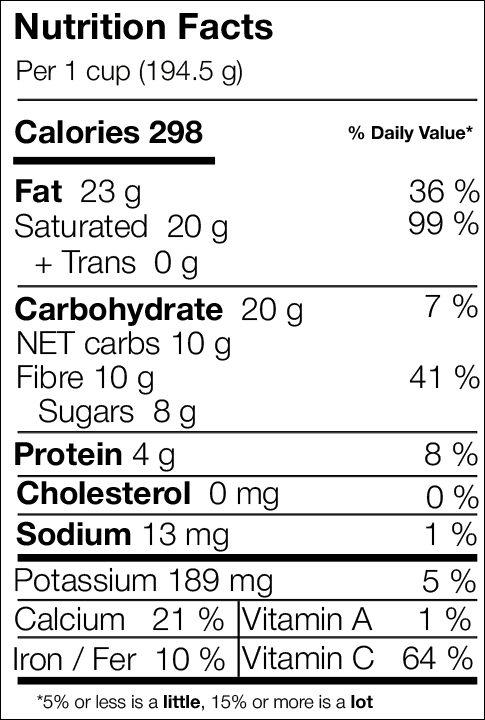 HOW TO BLEND
Step 1
Fill

your smoothie cup all the way to the top with your favourite liquid
Step 2
Toss all the good stuff into your blender and

blend

until smooth
Step 3
Pour your delicious smoothie back into your ready-to-go cup, pop the lid back on and

enjoy

!