Caprese Florentine Quiche
Ingredients
3 cups Ore-Ida Shredded Hash Brown Potatoes, thawed & drained
4 tablespoons butter, melted
3 roma tomatoes, sliced lengthwise
1/2 cup fresh spinach leaves, roughly chopped
8 - 10 fresh basil leaves
7 large eggs
1/2 cup half & half (made need a tablespoon or so more)
1 cup finely shredded mozzarella cheese
salt & pepper to season
Instructions
Preheat your oven to 450 degrees. Lightly grease your pie dish.
Gently press the thawed and drained Shredded Hash Brown Potatoes in between paper towels to dry them out as much as possible. Toss the Shredded Hash Brown Potatoes with the melted butter. Press the mixture into the bottom & up the sides of the pie dish to form a crust. Bake for 20-25 minutes or until golden brown & the edges are starting to crisp.
Remove from the oven & lower the heat to 350 degrees
Layer the tomato slices in a circle around the outer edge of the crust. Top the tomatoes with the chopped spinach and then lay the basil leaves out flat on top of the spinach.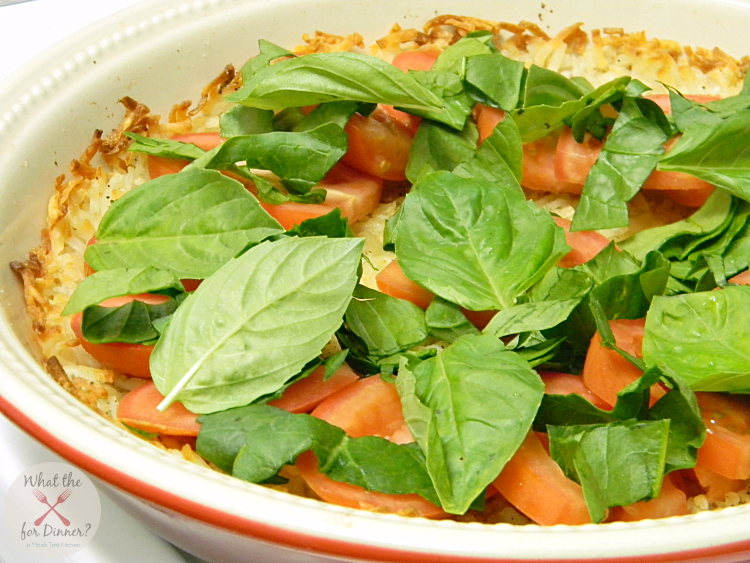 In a mixing bowl, combine the eggs, half & half and mozzarella cheese. Season with salt and pepper. Slowly pour the mixture over the layered ingredients in the pie dish. Don't worry about whether the ingredients are completely covered or not - they will rise as the quiche cooks.
Bake for 30 - 40 minutes or until the quiche is starting to turn golden on top & the egg mixture is set.