Mini muffuletta sandwiches recipe
Yields 8
Ingredients:
8 small buns
15 ounces olive salad
8 thin slices deli ham
8 thin slices hard salami
8 thin slices provolone cheese
Olive salad dip (recipe follows)
Directions:
Preheat oven to 350 degrees F.
Lay out the bottom and top of the buns. Spread an equal amount of olive salad onto each half.
Add ham, salami and provolone cheese to the bottom half of each bun. Wrap each sandwich in foil.
Add sandwiches to the oven and bake for about 15 minutes until warmed and the cheese is melted.
Serve warm with olive salad dip.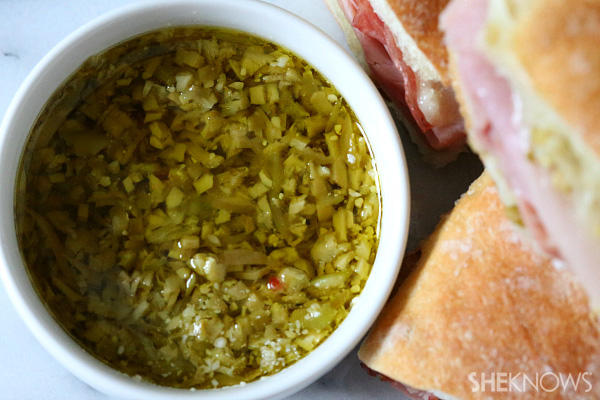 Olive salad dip recipe
Yields 1/2 cup
Ingredients:
1/3 cup olive salad
2 tablespoons Parmesan cheese
2-3 tablespoons olive oil
Directions:
Add all ingredients together and stir. If the sauce is too thick add more olive oil.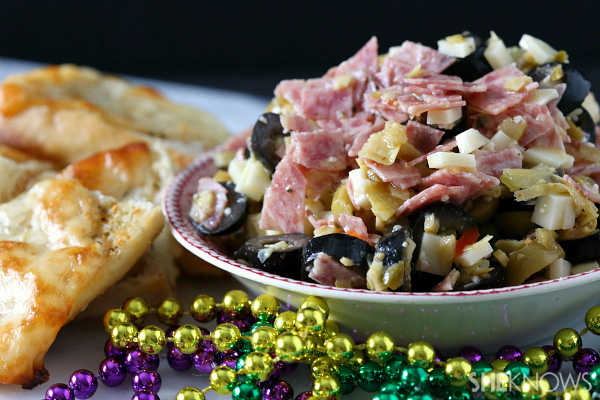 Next up, we have a delicious muffuletta dip. This gives you all of the flavor of the muffuletta sandwich but in a fun dip form. I served it with a delicious Cajun cheese bread, but I think chips would make an equally amazing dipper.
Muffuletta dip recipe
Adapted from MyRecipes
Yields 4 cups
Ingredients:
1 cup olive salad, drained
1 cup diced hard salami
1/4 cup Parmesan cheese
1/3 cup chopped pepperoncini
2 ounces sliced black olives
2 ounces sliced green olives
4 ounces provolone cheese, chopped
1/3 cup chopped roasted red pepper
2 tablespoons olive oil
Cajun cheese toast (recipe follows)
Directions:
In a large bowl mix all ingredients.
Cover and let sit refrigerated for a minimum of 4 hours. Serve cold with Cajun cheese toast.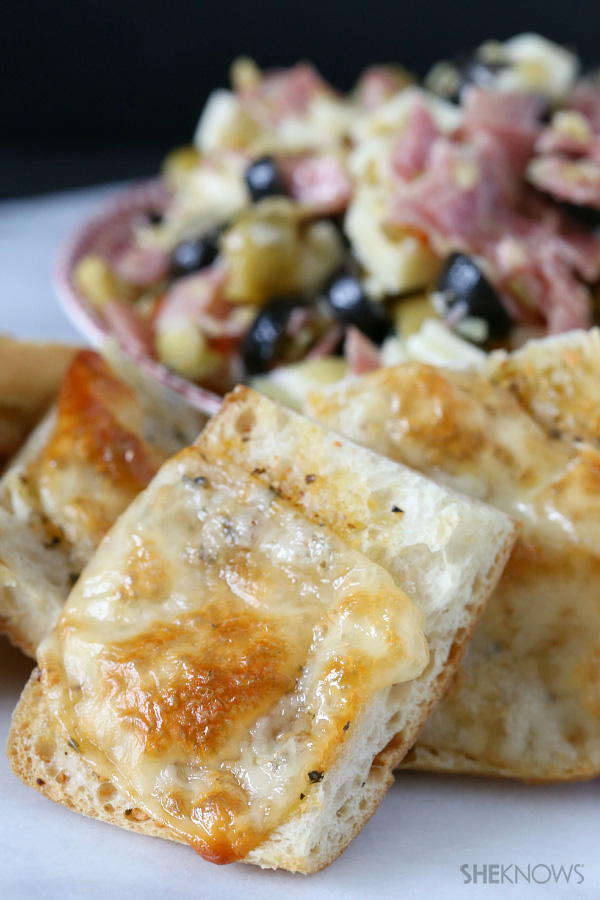 Cajun cheese toast recipe
Yields 20 slices
Ingredients:
20 thin slices crusty bread, cut into 2 x 2-inch squares
1/4 cup olive oil
Cajun seasoning, to taste
30 small slices Provolone cheese
Directions:
Preheat oven to 350 degrees F and line a baking sheet with parchment paper.
Lay out bread on the baking sheet and brush the tops of the bread with olive oil.
Sprinkle each slice of bread with Cajun seasoning and top with cheese.
Bake for about 10 minutes until the cheese is melted and lightly browned.