Italian Cream Cake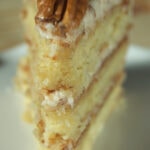 Ingredients
For the cake:
2 cups all-purpose flour
1 teaspoon baking soda
1 cup unsalted butter, softened
2 cups granulated sugar
5 large eggs, separated
1 tablespoon vanilla extract
1 cup buttermilk
1 cup flaked coconut
For the frosting:
1 cup chopped pecans
8 ounces cream cheese, softened
1/2 cup unsalted butter, softened
1 tablespoon vanilla extract
16 ounces confectioners' sugar, sifted
Instructions
To make the cake:
Preheat oven to 350°. Grease and flour 3 9-inch round cake pans.
Whisk together flour and baking soda. Set aside.
Using an electric mixer on medium speed, beat butter until fluffy. Gradually add sugar and beat well. add egg yolks, one at a time, beating well after each addition. Mix in vanilla.
Add flour mixture, alternating with buttermilk, and beat at low speed. Begin and end with flour mixture. Stir in coconut.
Beat egg whites until stiff peaks form. Gently fold into batter.
Pour batter into prepared pans. Bake for 25 minutes, or until a pick inserted into the center comes out clean.
Cool cakes in pans on wire racks for about 10 minutes. Then, remove from pans to wire racks to cool completely.
To make the frosting:
Toast pecans in a shallow baking pan at 350° for 5-10 minutes, or until toasted. Set aside to cool.
Using an electric mixer on medium speed, beat cream cheese, butter, and vanilla until creamy. Add confectioners' sugar and beat at low speed until blended. Then, increase mixer speed to high and beat until smooth. Stir in pecans.
Spread frosting between cake layers and on top and sides of cake.
Type a description for this product here...