Guinness Glaze Chicken Sandwich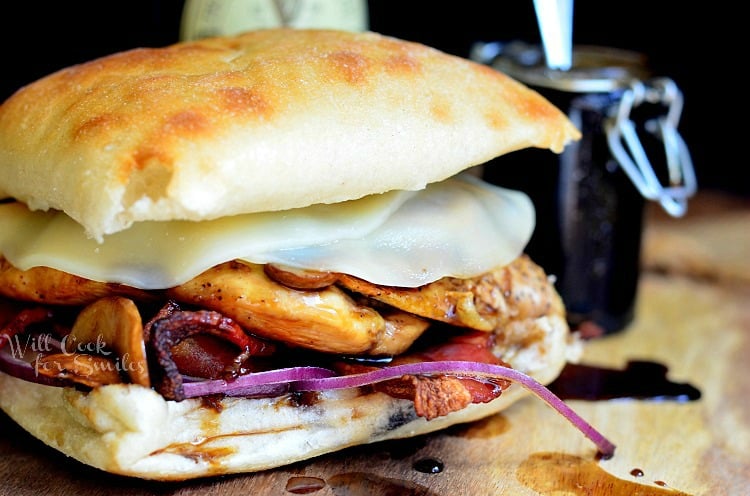 Ingredients
Guinness Glaze:

1 1/2 cup of Guinness stout
2 cloves of garlic, minced
4 Tbsp brown sugar
3 tsp Worcestershire sauce
1 tbs honey
salt to taste

Chicken Sandwich:

Grilled Chicken breast
3 slices of crispy bacon
Red Onion
Sauteed Mushrooms
2 slices of Provolone cheese
2 tbs Guinness Glaze
Instructions
Guinness glaze:

Combine all the ingredients for glaze in a sauce pot and set the heat to medium. Whisk the mixture with a silicone whisk until combined. Keep slowly whisking until sugar is dissolved.
Let it simmer, stirring occasionally, for about 25-30 minutes. It will reduce in half. Raise the temperature to medium-high and boil for about 30 seconds. Stir and take it off heat. (Don't worry, it will thicken more as it cools.)

Sandwich:

Grill the chicken and add a little glaze when it's almost done. Saute the chicken in glaze until fully cooked.
Build the sandwich and pour a little extra glaze between the chicken and cheese.
Read more at http://www.willcookforsmiles.com/2014/03/guinness-glaze-chicken-sandwich-food-fight-baileys-vs-guinness.html#Urp84G8ujHbqYu2f.99