Crispy Chicken Waffle Wrap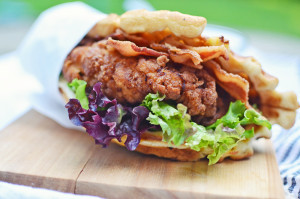 Crispy Chicken served in a Cheddar Waffle and topped off with Smokey Bacon and a drizzling of Maple Balsamic Vinaigrette dressing. Perfect for any time of day.
Ingredients
Crispy Chicken:
2 - 3 Chicken Breast
Buttermilk (enough to cover chicken, 1½ - 2 cups)
1 tsp Salt
½ tsp Pepper
1½ - 2 cups Flour (or All Purpose Baking Mix/Bisquick)
1 tsp Salt
½ tsp Pepper
2 tsp Garlic Powder
1 Tbls Smoked Paprika (can use Spanish Paprika if preferred)
Waffles:
2¼ cups Bisquick or All Purpose Baking Mix (or favorite waffles mix)
1 Egg
1⅓ cup milk
2 tbls Oil
1 tsp Salt
½ tsp Pepper
½ cup shredded Cheddar Cheese (Sharp, Medium are best, can also use Monterrey Jack, Gouda or your favorite hard cheese)
Maple Balsamic Vinaigrette
3 Tbls Maple Syrup
1 Tbls Balsamic Vinegar
Instructions
For the Crispy Chicken:
In a gallon size ziploc bag, pour in the butter milk and add 1 tsp of salt and ½ tsp pepper. (Can also add in hot sauce or chili powder if desired). Seal the bag, place in the fridge for at least 4 hours or preferably overnight to marinate. Take out of fridge for at least 15 minutes prior to frying so it can come to room temperature.
Heat at least 3 inches of oil in a dutch over (or deep fryer) to about 375°F.
In a ziploc bag or shallow bowl mix together the Flour (Bisquick), Salt & Pepper, Garlic Powder and Smoked Paprika until well blended.
Place the buttermilk soaked Chicken one piece at a time into Flour mixture and generously coat all over.
Carefully place all the coated Chicken once at a time into the hot oil and deep fry for 5 - 6 minutes.
Remove, drain on a paper towel lined plate and let the chicken rest for 5 minutes.
Add the Chicken back to the hot oil once more this time for 4 - 5 minutes or until golden brown, remove, drain and keep warm in 300°F oven until ready to serve.
For the Waffles:
In a bowl, mix together Bisquick/Baking Mix, Egg, Milk, Oil, Salt & Pepper and your favorite shredded cheese. Mix well.
Heat waffle iron, spray with cooking spray, pour about ¼ cup or recommended amount of batter for your waffle iron, so that you don't have a spill over, close cover and cook for about 4 - 5 minutes or until just golden.
For the Dressing:
Mix Maple syrup and Balsamic vinegar in small bowl and set aside until ready to use.
To Assemble:
Fold a warm large round waffle in half add 1 chicken breast, lettuce, crispy smoked bacon and generously drizzle Maple Balsamic Vinaigrette and serve with additional Vinaigrette on the side. Can add tomatoes and extra cheese if desired.
Serve and Enjoy.
Notes
You can also serve it by stacking the waffles topped with lettuce (optional), Fried Chicken, topped with crumbled Smokey Bacon and drizzled with Maple Balsamic Vinaigrette.

For a bit of heat add some chili powder to the flour mixture for Chicken and can also sprinkle crushed chili flakes along with the bacon over top. Want more? Add some crushed chili flakes to the waffle batter!