Cedar-Planked Salmon with Horseradish-Chive Sauce
Servings: 4 (with leftovers!)
Ingredients
For the salmon:
1 2-lb boneless, skin-on salmon fillet
1 tablespoon grated lemon zest
2 teaspoons fresh thyme, chopped
1/2 teaspoon granulated sugar
Salt and pepper, to taste
2 tablespoons extra-virgin olive oil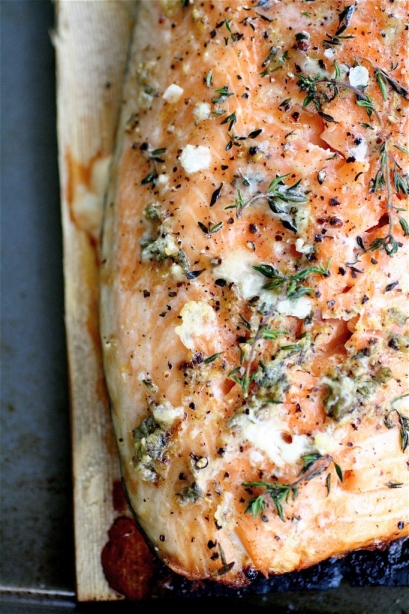 For the Horseradish-Chive Sauce:
1/2 cup crème fraîche (or sour cream)
3 tablespoons fresh chives, minced
1 and 1/2 tablespoons prepared horseradish
Salt and pepper, to taste
Special equipment:
1 15×7-inch untreated cedar plank***look for these in specialty food stores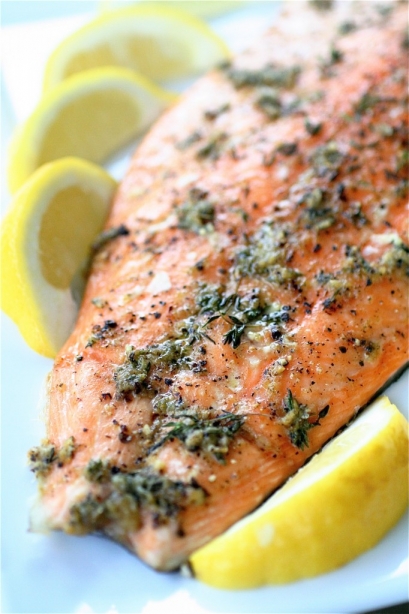 Instructions
1. To prep the cedar plank: Fully submerge and soak the cedar plank in a pan of water (I put bowls or cups on mine to keep it submerged) for at least one hour. **This prevents it from catching on fire and helps create a smoking effect.
2. For the salmon: In a small bowl, combine the lemon zest, thyme, sugar, salt and pepper, mixing well with a fork.
3. Generously brush both sides of the salmon with olive oil.
4. Place the salmon fillet skin side down onto the cedar plank.
5. Using your fingers, crush the lemon mixture between your fingers to evenly distribute the lemon zest, and then rub the mixture onto the top of the salmon. Set aside.
6. Meanwhile, prepare your gas grill by setting all the burners to high heat. Let it remain this way until you are just ready to grill the salmon.
7. Turn off all but one of the burners, and place the cedar plank over the cooler part of the grill, making sure to place the thickest part of the salmon fillet closest to the heat source.
8. Cover the grill and cook the salmon until completely cooked through and it easily flakes with a fork (a meat thermometer should read 135 degrees), about 20-35 minutes, depending on your grill heat.
9. Remove the plank carefully from the grill and let rest for 5-10 minutes before serving in individual portions.
10. For the Horseradish-Chive Sauce: Combine all the ingredients in a small bowl, and season to taste with salt and pepper. Refrigerate until time to serve.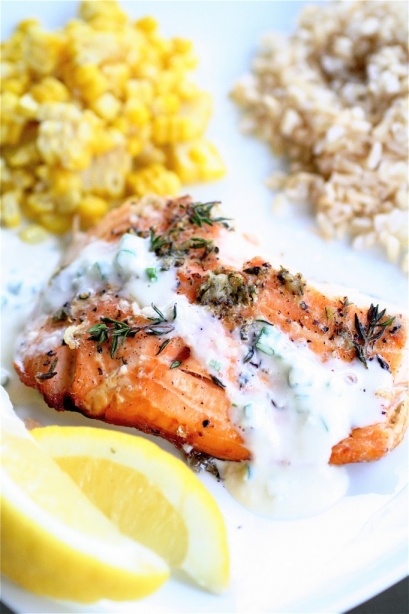 Source: Barely adapted from June/July 2011 issue of Fine Cooking.