SRIRACHA GLAZED CHICKEN WITH PICKLED PLUM SALAD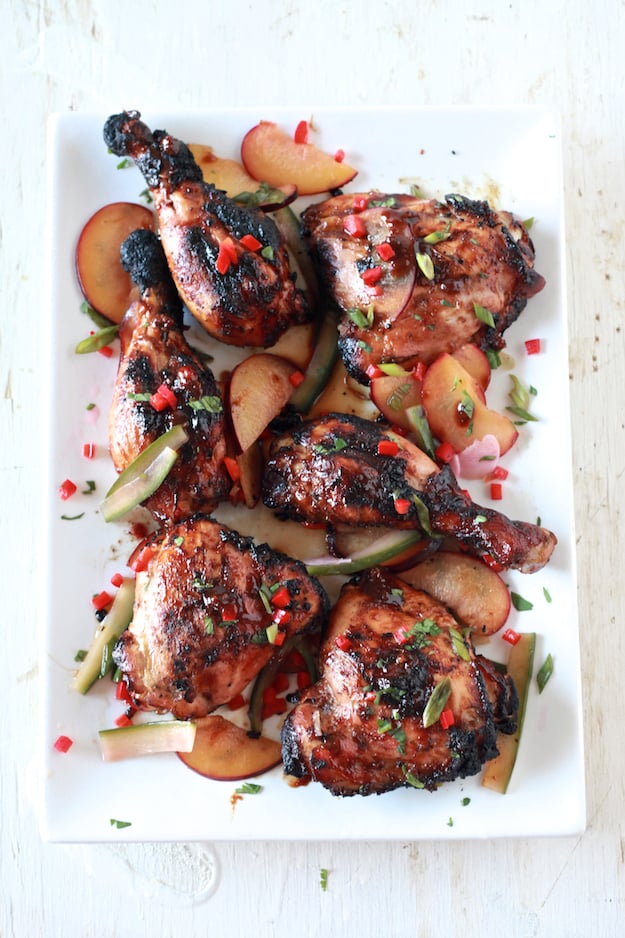 INGREDIENTS
Pickled Salad
5 plums, pitted & thinly sliced
½ English cucumber, cored and sliced as matchstick
3 green onions, sliced at a bias
½ red pepper, small diced
4 garlic cloves, thinly sliced
1½ cups white vinegar
⅔ cup sugar
2 tablespoons salt
1 cup water
1½ cup ice
Chicken
½ cup soy sauce
4 tablespoons rice wine vinegar
juice from ½ lime
3 tablespoon Sriracha sauce
2 tablespoon honey
4 cloves garlic, pressed
1 tablespoon grated peeled fresh ginger
1 tablespoons toasted sesame oil
2 lbs chicken thighs and/or drumsticks, skinned
cilantro, chopped for garnish
INSTRUCTIONS
Salad
Place vegetables and plums in a large bowl or pitcher. In a small sauce pot combine vinegar, sugar, salt and 1 cup water over medium-high heat. Bring to a simmer and stir until sugar dissolves. Add ice and stir until melted. Pour over vegetables and refrigerate to pickle.
Chicken
Combine soy sauce, vinegar, sriracha, lime juice, honey, garlic, ginger and sesame oil in a small bowl. Whisk together until well combined. Place chicken in a large resealable bag, add marinade. Refrigerate for 45 min to 1 hr to let marinade.
Remove chicken from marinade, set aside. Pour remaining marinade into a small sauce pot, bring to a boil and reduce by half.
Preheat grill to medium-high heat. After preheating, turn the left burner off (leave the right burner on) or move coals to right side of the grill.
Brush the grill rack with vegetable oil or cooking spray. Place chicken on grill rack over direct heat. Cover and grill for 5 minutes on each side, basting occasionally with reduction. Move the chicken to grill rack over indirect heat. Cover and grill an additional 5 minutes on each side or until done, basting occasionally with reduction.
Serve chicken with pickled salad over jasmine rice, garnished with cilantro.
NOTES
OVEN PREPARATION
Add the chicken with all the marinade (not need to boil stove top) into a rimmed baking sheet pan lined with foil. Cook for 30 minutes at 400°F, flipping & baste chicken halfway through. Lower the heat to 350°F and cook for an additional 10-30 minutes or until juices run clear (not pink) when poked with a sharp knife or the internal temperature reaches 170°F. Sauce should be thick and sticky. If your chicken pieces aren't browning to your satisfaction, you can put them under the broiler for the last 5 minutes of cooking or until browned sufficiently.