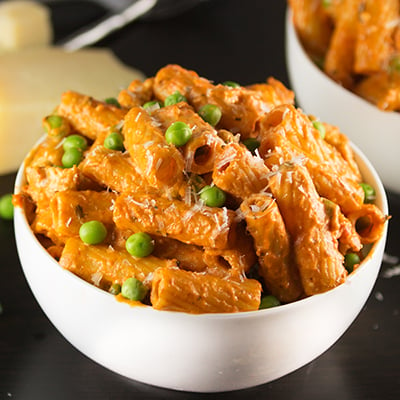 INGREDIENTS
2 boneless skinless chicken breasts cut into super thin strips
1 tablespoon garlic – minced (I used about 6-7 cloves)
1 tablespoon crushed red pepper flake
1/2 teaspoon coarse black pepper
1/4 teaspoon salt
3-4 tablespoons olive oil
2 cups alfredo sauce (see recipe here)
2 cups marinara sauce
1/2 cup peas
1 lb rigatoni noodles cooked al dente
2 tablespoons butter
Sprinkle of fresh parmesan cheese and a pinch of red pepper flake for garnish.
DIRECTIONS
In a large skillet on medium-high heat, heat two tablespoons olive oil. Sauté garlic, red pepper flake, and coarse black pepper for 2-3 minutes. Add in thin strips of chicken breast, 1/4 teaspoon salt, and cook until chicken is done at a temperature of 160 degrees. This should only take a few minutes because the chicken is cut thin.
Add in marinara sauce and stir. Then add in alfredo sauce. Let the sauces simmer for about 10 minutes.
To the sauce/chicken, add two tablespoons butter and 1/2 cup peas. Stir until the butter melts.
Combine chicken/sauce mixture with cooked pasta. Garnish with fresh parmesan cheese, and a pinch or two of red pepper flake.