Philly Cheese Steak Sandwiches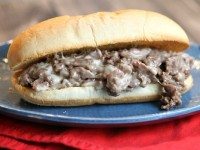 Ingredients:
2 pounds skirt steak (don't sub any other kind)
4 (8-inch) soft Italian sub rolls
2 tablespoons vegetable or canola oil
1/2 teaspoon salt
1/8 teaspoon pepper
1/4 cup grated Parmesan cheese
8 slices (8 ounces) white American cheese
Directions:
1. Trim fat from steak, if needed. Slice the steak crosswise, with grain, into 3-inch-wide strips. Place steak on large plate and freeze until very firm, about 1 hour. Using a sharp knife, shave the frozen steak as thinly as possible against the grain. Mound the meat on a cutting board and chop coarsely with your knife, 10 to 20 times.
2. Adjust the oven rack to the middle position and heat oven to 400 degrees. Split rolls open, spread on baking sheet, and toast until lightly browned, 5 to 10 minutes.
3. Heat 1 tablespoon oil in 12-inch nonstick skillet over high heat until just smoking. Add half of the meat in an even layer and cook, without stirring, until well-browned, 4 to 5 minutes. Stir and continue to cook until the meat is no longer pink, 1 to 2 minutes; transfer the meat to a colander to drain. Wipe out the skillet with paper towels and repeat with the remaining 1 tablespoon oil and chopped meat.
4. Return the now-empty skillet to medium heat. Drain the excess moisture from the meat, return the meat to the skillet, and add 1/2 teaspoon salt and 1/8 teaspoon pepper. Cook, stirring constantly, until meat is warmed through, 1 to 2 minutes.
5. Reduce heat to low, sprinkle with Parmesan, and lay American cheese over the top Let cheeses melt, about 2 minutes. Fold the melted cheese into the meat thoroughly. Divide the mixture evenly among the toasted rolls and serve.
Tips:
*The last photo in the post shows added onions and peppers (optional). I sliced a sweet onion thinly and sauteed it in a little oil along with a thinly sliced green bell pepper.