Breakfast Bake
Another great dish for feeding many mouths & adaptable too! Swap the sausage for bacon if you prefer or even some black pudding! I used Cumberland sausages as they are my favourite but use whatever you like. A pinch of chilli powder or Cayenne gives a little kick if you feel you need it, if you know what I mean!
Serve with ketchup or brown sauce, or even chilli sauce!
Serves 4 Approx 53p per person
Prep time 10 minutes Cooking time 40 minutes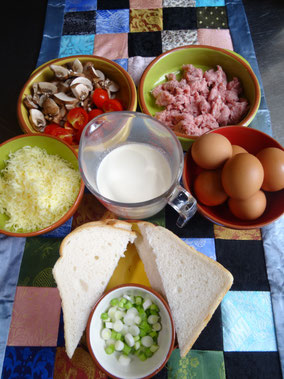 Ingredients
200g sausage, removed from skins
4 slices white bread, preferably a few days old, cut into triangles
50g cherry tomatoes, halved
125g mushrooms, sliced
1/2 bunch spring onions, sliced
75g grated cheddar
3 eggs
100ml milk
100ml double cream
salt & pepper
pinch of chilli powder or cayenne (optional)
Heat a tbsp of oil or butter in a large frying pan over medium heat & cook the mushrooms until soft. Set aside then add the sausagemeat to the pan & cook until browned all over. Set aside.
Preheat the oven to 180C/Gas 4/Fan160.
Lightly grease a baking dish or tin & place the slices of bread in the bottom. Add the sausage on the top along with the mushrooms.
Next add the onions, tomatoes & top with the cheese.
In a jug beat together the milk, cream & eggs. Season with salt & plenty of pepper & some spice if you want.
Pour the milk mixture carefully & evenly into the dish. Let it sit for about 10 minutes to allow the milk/egg mixture to soak in.
Bake for about 30 minutes until golden & puffed up.
Serve immediately with your choice of sauces!